The Talent Code
The Talent Code: Greatness Isn't Born. It's Grown. Here's How.
By Daniel Coyle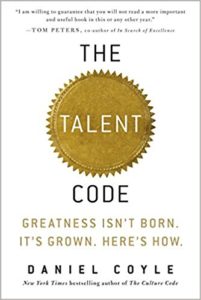 Click Here To Purchase From Amazon
I'm sure at some point in your life you've wondered to yourself how it is that so many experts in 1 field seem to come from the same place…
tennis players… Russia
female golfers… South Korea
soccer players… Brazil
Daniel Coyle took it upon himself to dive deep into this topic. He visited the hot spots & observed the participants & the coaches.
The science is interesting. Prepare yourself to learn about "myelin" while reading The Talent Code. But for you non-scientist out there, don't get bogged down in the science. Simply know that myelin can be defined simply as the "skill" and that just like using muscles help them grow, using myelin helps it grow.
The big picture…
Deep practice (which requires hard work, mental struggle, and extreme attention to detail) is required.
Highly talented pockets develop because they accelerate deep practice.
Chunking is a secret to accelerated struggle.
An ignition is required to create hotbeds.
Long-term commitment is a huge predictor of success.
Great teachers are key. Those teaches spend most of their time offering small, targeted, highly specific adjustments.
Click Here To Purchase From Amazon
I hope you enjoy The Talent Code. Don't forget that we've featured a different book each month. You can catch up on all of our selections at https://www.playinschool.com/category/book-club.